>>
>>
Communication Skills for Managers, Fifth Edition
Communication Skills for Managers, Fifth Edition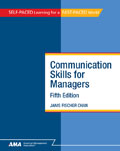 Author: Janis Fischer Chan
Credit: 2.0 CEUs
Testing Format: multiple choice
Your Price: $139.00
ISBN: 9780761213383
Format: Book
Overview
Communicating clearly is a critical skill for successful managers!
The ability to communicate clearly is the critical core competency for successful managers at all levels and in all industries. This self-study course is your guide to business communication that delivers the message—whether written, or spoken, in person or via e-mail—with respect for the receiver, and in all business situations. This solid overview of all facets of business communication offers numerous opportunities to practice and apply your new skills and a log to track your improvement.
Course Objective: Utilize techniques to improve your communication skills by increasing reading, writing, speaking, and listening proficiency.
Selected Learning Objectives
• Communicate clearly and correctly to avoid misunderstanding and get your message across
• Develop and use your listening skills to solve problems, diffuse conflict, teach staff, and be a more productive manager or team leader
• Ask the right type of question to elicit information, encourage a response, or create a relationship
• Master the techniques of successful presentations from planning to delivery
• Analyze your audience before communicating your ideas in any format
• Choose the most appropriate mode for communicating your message
• Use effective language to express your ideas clearly in well-constructed letters, proposals, memos, and e-mail