>>
>>
Fundamentals of Purchasing
Fundamentals of Purchasing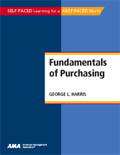 Author:Dr. George L. Harris
Credit: 2.0 CEUs
Testing Format: multiple choice
Your Price: $159.00
ISBN: 9780761214007
Format: Book
Overview
Purchasing has a direct and powerful effect on the organization's bottom line.
This course is designed for new purchasing professionals. It will ground you in the basics as they are practiced in a contemporary business environment. With a strong emphasis on real-world practices and corporate teamwork, Fundamentals of Purchasing leads you through the six core functions of purchasing: how to gather the necessary information, set a purchase strategy, develop and send your RFQ (request for quotation or proposal), evaluate and choose suppliers, negotiate terms and conditions, and implement the agreement.
At each step, you'll find work assignments, sample documents, and exercises that are directly relevant to your job. Those involved with global procurement will appreciate the special guidance on the logistics of international purchasing.
Course Objective: Understand the purchasing process and the strategic role of the purchasing professional as it impacts the organization.
Selected Learning Objectives
• Perform all basic purchasing functions
• Establish an effective purchasing system
• Identify the best suppliers
• Implement key purchasing strategies to reduce costs for your company
• Negotiate terms and conditions of purchasing agreements
• Identify how purchasing impacts company profitability