Leadership Skills for Managers, Fourth Edition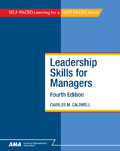 Author: Charles M. Caldwell
Credit: 2.0 CEUs
Testing Format: multiple choice
Your Price: $139.00
ISBN: 9780761214274
Format: Book
Overview
Today's leaders face many challenges in achieving their goals. Rapid changes
in technology, a more diverse workforce, changes in government regulations,
worldwide competition, and the growing complexity of things in general
have increased our awareness of the need for more effective leaders. Developing
leaders requires having an understanding of the knowledge and skills
required for effective leaders.
Leadership Skills for Managers, 4th edition, focuses on five leadership skill
sets necessary to ensure individual and organization performance: providing
direction, leading by example, enabling others, sharing power, and seeking a
better way. In addition to the leadership skill sets, the course examines the
attitudes and mindsets of effective leaders. In the final analysis, the evidence
of leadership is in the performance of the people and the organizations that
follow the leader. When they perform well, the leader is a success. When they
don't perform well, leadership changes are almost always forthcoming.
This course provides the background, real-world examples, practical
applications, and numerous exercises to help prepare aspiring leaders. The
lessons learned in this course can be applied to any leadership level in an
organization and in any type of organization.
Course Objective:
Build concepts and skills to lead your workforce to superior performance.
Selected Learning Objectives:
* Make the change from manager to leader.
* Provide direction.
* Enable others to achieve and succeed.
* Develop a vision and create alignment.
* Grow and develop new leaders.
* Appraise leadership performance.
* Use Continuous Improvement.