First Line Supervision, Fifth Edition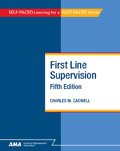 Author: Charles M. Cadwell
Credit: 2.0 CEUs
Testing Format: multiple choice
Your Price: $139.00
ISBN: 9780761214519
Format: Book
Overview
Join the thousands of supervisors who have stepped up to their new roles with this self-study classic.
Join the thousands of supervisors who have learned the ropes with this classic self-paced course on mastering supervisory skills. Completely revised and updated, First-Line Supervision, Fifth Edition gives you all the confidence and know-how you need to achieve and maintain supervisory success in the contemporary workplace.
Filled with expert information on all the basics of the job—from managing time and stress to motivating and counseling employees— First-Line Supervision, Fifth Edition is light on business-school jargon and heavy on real-world guidance. Using self-assessments, action plans and relevant work examples, it shows you exactly how to apply crucial supervisory skills in your own workplace.
Whether a novice or experienced supervisor, you'll find First-Line Supervision, Fifth Edition inspirational, instructive and encouraging. Just think of the course as a trusted friend—one that will lead you step-by-step along a new path to success and satisfaction.
Course Objective: Develop skills to orient, train, manage and coach employees.
Selected Learning Objectives
• Make a successful transition from staff to supervisor
• Develop your own leadership style
• Establish a partnership with your boss
• Give feedback to improve performance
• Build a top-performing team
• Manage communication technology
• Develop the skills to manage a diverse work force
• Learn techniques for managing virtual employees and employees at multiple and distant locations
Testing Format
This course contains one multiple choice test valued at two Continuing Education Units (CEUs).
Table of Contents
About This Course
How to Take This Course
Pre-Test
1. Becoming a Supervisor 1
Making the Transition to First-Line Supervisor
Focus
Seeing the Big Picture
The Work
Number of Priorities
Work Quality
Time Commitment
Dealing with Information
Motivation
Role on the Team
Attitude
Importance of First-Line Supervision
Day-to-Day Operations
First Line of Contact for Employees
Span of Control
Development of Organization Talent
Paradoxes of First-Line Supervision
Being a Supervisor and a Technical Expert
Little Effort Is Devoted to Training
The Way Work Is Organized
Supervising Tasks and Learning Skills
Leadership Style and Behavior
Task vs. People
Other Considerations Affecting Leadership Style
Recap
Review Questions
2. Role of the Supervisor 21
Day-to-Day Supervisory Roles
Plan and Organize Work
Provide Resources
Manage and Develop People
Administer and Control
Handle Problems and Issues
Personal Qualities of an Effective First-Line Supervisor
Set High Personal Standards
Be Accessible
Inspire Success
Accept Responsibility for Your Actions
Emphasize Quality and Service
Believe in Employees
Set Priorities and Stick to Them
Strive for Continuous Improvement
Working with Your Boss
Develop a Partnership
Focus on Common Priorities
Communicate Upward
Maximize the Relationship Potential
First-Line Supervision Key Competencies
Communicating
Developing People
Managing People
Building a Team
Getting the Work Done
Supervising in a Changing Environment
Recap
Review Questions
3. Communicating 45
The Communication Process
Listener Problems and Solutions
What Is This All About?
Exactly What Is Being Proposed?
Why Is It Needed and by Whom?
What's in It for Me?
What Is Supposed to Be Done About It?
Improving Personal Listening Habits
Listen for Ideas, Emotions, and Feelings
Listen for What Is Not Being Said
Control Your Emotional Reactions
Overcome Personal Prejudgments and Distractions
Keep an Open Mind
Listen More Than You Talk
Hear the Other Person Out (Don't Interrupt)
Use Open-Ended Questions for Active Listening
Planning and Conducting Meetings
Preparing an Agenda
Conducting the Meeting
After the Meeting
Brainstorming
Written Communication
Organize Before You Write
Use Simple, Straightforward Language
Be Sensitive to the Tone of Your Writing
Write from the Viewpoint of the Reader
Communication Technology
Electronic Messaging
Voice Mail
Internet or Intranet
Conferencing
Cellular Technology
Computer Systems
Recap
Review Questions
4. Developing People 71
People Development
Benefits
Types of Development Activities
Setting Goals and Maintaining Focus
New Employee Orientation
Objectives
Developing an Orientation Plan
Conducting New Employee Orientation
Employee Training
Benefits of Training
Failure to Train
Identifying Training Needs
Four-Step Training Method
Being an Effective Trainer
Making Sure Training Is Effective
Have a Pre-Training Meeting
Have a Post-Training Meeting
Provide an Opportunity to Perform
Ensure a Supportive Environment
Encourage and Recognize Improvements
Coaching Employees
Key Factors in Assessing a Possible Coaching Situation
The Coaching Process
When to Quit Coaching
Recap
Review Questions
5. Managing People 99
Performance Feedback
Using Feedback Systems
Provide Positive Feedback to Reinforce Performance
Providing Corrective Feedback
Performance Appraisal as a Feedback Tool
Working with Difficult Employees
Types of Difficult Behaviors
Causes of Difficult Behaviors
Strategies for Working with Difficult Behaviors
Managing Workplace Conflict
Causes of Conflict
Conflict Management Styles
Steps for Successful Conflict Management
Taking Disciplinary Action
Focus on Behavior
Disciplinary Options
Recap
Review Questions
6. Building a Team 123
Why Teamwork?
Organization Benefits
Individual Benefits
What Is a Team?
Transforming a Group into a Team
Share the Expectations
Share the Responsibilities
Share the Glory
Being a Valuable Team Member
Use Active Listening
Avoid Making Commitments You Can't Keep
Deliver What You Promise
Give Credit to Others
Seek Contributions of Others
Share Your Resources
Work to Resolve Workplace Issues
Keep Confidences
Maintain a Sense of Humor
Smile
Obstacles to Team Development
Recap
Review Questions
7. Getting the Work Done 139
Performance Motivation
Your Role in Motivation
Different Folks, Different Strokes
All Behavior Is Motivated
Obtaining Top Performance
Establish and Communicate Expectations
Provide Positive Feedback
Focus on Teamwork
Inspire, but Don't Control
Lead by Example
Delegating to Get the Work Done
Guidelines for Successful Delegation
Planning and Organizing for Success
Imperatives of Planning
Make Your Plan Specific, Achievable, and Measurable
Plans Should Be in Writing
Plans Must Have a Timetable
Determine Priorities Beforehand
Communicate What Is Going On
Questions Your Plan Should Answer
Managing Your Time
Use a Daily List of Things to Do
Prioritize Your Daily List
Determine the Best Use of Your Time Right Now
Manage Your Time Like Money
Strive for Life Balance with Your Time
Effects of Stress on Productivity
Recap
Review Questions
8. Supervising in a Changing Environment 161
Legal Issues for First-Line Supervisors
Government Laws and Organization Policies
Avoiding Legal Action
Supervising a Diverse Workforce
Your Role in Supervising Diversity
Developing Yourself for Diversity
The Distance Manager and Virtual Work
What, Why, and When of Distance Management and
Virtual Work
Being a Successful Distance Manager
Being a Successful Virtual Worker
Organization Success Factors
Managing Change
Stages of Change
Managing Change as a First-Line Supervisor
Recap
Review Questions
9. Ensuring Your Success 179
Reevaluate Your Confidence Level
Additional Skill Development
Ongoing Professional Development
Recap
Review Questions
Bibliography
Post-Test
Index