Fundamentals of Human Resources Management, Fifth Edition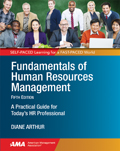 Author: Diane Arthur
Testing Format: multiple choice
Your Price: $159.00
ISBN: 9780761215738
Format: Paper or Softback
Overview
Prepare for a successful career in Human Resources
Fundamentals of Human Resources Management is a comprehensive and up-to-date guide to virtually every aspect of human resources management from understanding the basic HR functions to using the internet for recruiting to selecting the latest HRIS. Whether new to the profession or a newly promoted professional, students will find in this course all the information and skills they need to do their job and make a positive impact in their organization.
Students will learn how to:
• Write job descriptions and specifications; develop cost-effective, competitive compensation and benefits programs
• Recruit, select, interview, and hire more qualified employees in full compliance with Federal and State laws
• Implement a results-based performance management plan
• Develop policies and procedures manuals and employee handbooks
• Select and use a Human Resource Information System (HRIS)
• Evaluate training options to provide optimal training and development opportunities for all workers
• Build a mentoring program to aid in succession planning
• Create HR budgets and strategic plans that align with senior management priorities
• Leverage new information on employee assistance and health insurance options to strengthen employee benefit programs
Now completely revised, the fifth edition of this course covers new trends in training and development, the latest thinking on hiring, updated information on employment-related legal issues, insight on the changing role of unions, guidance on online recruitment and the smart use of social media, information on electronic performance management systems, a glossary of key terms, and much more. This trusted resource equips students to meet today's HR challenges and gain competitive advantage for their companies.
Who Will Benefit
Fundamentals of Human Resources Management, Fifth Edition, gives both HR practitioners and managers the skills they need to maximize the role of HR in their organizations. It also provides a timely context for demonstrating how the HR function can be a significant contributor to any organization in meeting many of today's workplace challenges.
Table of Contents
About This Course
How to Take This Course
Pre-Test
1 The Human Resources Function: An Overview 1
Introduction
The History of Personnel/Human Resources
Today's Successful HR Practitioner
HR Challenges
Establishing an HR Function
The HR Function in Small and Mid-Sized vs. Large Organizations
The HR Function in Relation to Non-HR Functions
Recap
Review Questions
2 HR Management and Employment-Related Legal Issues 33
Introduction
Employment-Related Legislation
The Impact of Employment-Related Legislation on HR Management At-Will Employment and Termination
Negligent Hiring and Retention
Avoiding Discrimination Charges
Recap
Review Questions
3 The Employment Process: Preparatin Recruitment,Interviewing
and Documentation 63
Introduction
Interview Preparation
Recruitment
Interview Questioning Techniques
Documentation
Recap
Review Questions
4 The Hiring Process: Selectionand Orientation 85
Introduction
Preemployment Testing
References
Background Checks
Final Selection Factors
Orientation Programs
Recap
Review Questions
5 Compensation 113
Introduction
Characteristics of an Effective Compensation Program
Job Descriptions
Position Evaluations
Specific Compensation Programs
6 Performance Management 135
Introduction
Objectives and Uses
Components of an Effective Program
Performance Management Methods
Allocation of Performance Management Responsibilities
Performance Management Forms
Electronic Performance Management
Performance Management Meetings
Recap
Review Questions
7 Benefits Administration 163
Introduction
Recent Benefits Trends
Primary Objectives of Benefits Programs
Federally Mandated Employee Benefits
Additional Benefits Legislation
Health Care Insurance Plan Options
Selecting an Insurance Carrier
Recap
Review Questions
8 Employee Relations 183
Introduction
Employee Assistance Programs (EAPs)
Grievances and Disciplinary Procedures
Alternative Dispute Resolution
HR Policies and Procedures Manuals and Employee Handbooks
Employee Retention
Recap
Review Questions
9 Training/Learning and Development 209
Introduction
Training and Development Trends
Needs Assessment
Directed Training vs. Nondirected Training
Distance Learning
Classroom Training vs. Distance Learning
Blended Learning
Evaluating the Effectiveness of Training
Career Development
Mentoring
Recap
Review Questions
10 Human Resources Management Systems 233
Introduction
Guidelines for Using, Selecting, Upgrading and Implementing an HRMS
Selecting a Vendor
Self-Service Applications
Privacy and Security Issues
HRMS Maintenance
Recap
Review Questions
Bibliography 253
Glossary 255
Post-Test 265
Index 271