How To Manage Conflict in the Organization, Second Edition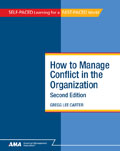 Author: Gregg Lee CarterPh.D
Credit: 2.0 CEUs
Testing Format: multiple choice
Your Price: $139.00
ISBN: 9780761214267
Format: Book
Overview
Gain control of tough conflict situations and transform them into a productive force in your organization.
How to Manage Conflict in the Organization, Second Edition, equips you with the strategies, tactics and insights you need to gain control of tough conflict situations.
You´ll discover how to spot potential interpersonal conflicts—and defuse them before they flare up. You´ll understand how, when, where and why to apply the five favored conflict-resolution approaches, and you´ll develop the insight and intuition you need to make them work.
This course will give you the skills to transform conflict into a positive, productive force by applying the proven techniques of principled negotiation.
Course Objective: Learn to identify potential conflicts and apply five conflict resolution strategies to defuse them.
Selected Learning Objectives
• Transform conflict into a positive, productive force
• Respond to on-the-job conflicts quickly and effectively
• Resolve conflicts positively using proven principled negotiation techniques.
• Understand the differences between structural (organizational) and interpersonal conflict
• Separate people from issues and focus on interests, not positions
• Get beyond immediate tensions and disagreements to the root causes of any interpersonal conflict
• Apply five surefire conflict-resolution approaches: avoiding, accommodating, compromising, forcing, and collaborating
• Adopt best practices for implementing alternative dispute resolution techniques
• Develop strategies for dealing with conflict resolution in electronic communication
• Follow guidelines for when to consult with HR about a conflict-resolution situation
Testing Format
This course contains one multiple choice test valued at two Continuing Education Units (CEUs).
Table of Contents
About This Course
How to Take This Course
Pre-Test
1. Conflict in Organizations 1
Introduction
Definition of Conflict
A Note on Conflict Theory and Research
Conflict Resolution Approaches
Avoiding
Accommodating
Compromising
Forcing
Collaborating
Varying Situations, Varying Approaches to Conflict Resolution
Conflict Resolution in a Changing Workforce
Changes in the Workforce
Conflict Resolution and the Law
Consulting HR or Requesting Formalized Alternatives
Types of Alternative Dispute Resolution
Conciliation
Dispute Panel
Early Neutral Evaluation
Peer Review
Facilitation
Mediation
Arbitration
Mediated Arbitration
Ombudsperson Evaluation
Minitrials
Principled Negotiation
Separating People from Issues
Focusing on Interests, Not Positions
Inventing Options for Mutual Gain
Using Objective Standards of Fairness
Having Alternatives to a Collaborative Agreement
Degree to Which Etch Party Is Knowledgeable
Willingness to Communicate
Recap
Review Questions
2. Recognizing Types of Conflict 33
Introduction
The Manager's Job
Categorizing Conflict
Where the Manager Sits
The Authority of the Manager
Need for Creativity
Observations and Guidelines for Using Authority and Creativity
Structural Conflict
The Root Causes of Structural Conflict
Interpersonal Conflict
Constructive Versus Destructive Conflict and Conflict Resolution
Recap
Review Questions
3. Resolution of Structural Conflict 55
Introduction
Konrad Zed Peripherals Incorporated: A Case Study
Organizational Structure
Structural Resolution Approaches
Using Authority
Expanding Resources
Reducing Interaction
Clarifying Job Responsibilities
Reducing Interdependence
Creating Integrators
Using Principled Negotiation
Recap
Review Questions
4. Resolution of Interpersonal Conflict 75
Introduction
Lake City Manufacturing: A Case Study
Interpersonal Conflict Resolution Approaches
Coaching
Modifying Behavior
Playing the Rote of Mediator and the Art of Image Exchanging
Diffusing Emotions
Improving Communication
Conflict Resolution in the Age of Electronic Communication
When Conflict Resolution by Walking Is Preferable to Electronic
Communication
When Electronic Communication Is More Appropriate Than Conflict
Resolution by Walking
Creating Superordinate Goals
Using Principled Negotiation
Recap
Review Questions
5. Negotiation: The Open Approach to Conflict Resolution 111
Introduction
Negotiation
Conflict Resolution Approaches
The Connection Between Negotiation and Conflict Resolution
Approaches
The Masoon Company: A Case Study
Principled Negotiation
People
Interests
Options
Criteria
Recap
Review Questions
6. Politics: The Secret Approach to Conflict Resolution 135
Introduction
Conflict Resolution Approaches Well Suited for Organizational Politics
The Goals of Political Behavior
Organizational Politics: Little Has Changed
Dale Carnegie
The GMJ Surveys
Robert Baron and Jerald Greenberg
The Connected Administrative Assistant: A Case Study
But Is It Good for the Organization?
How to Get Ahead in Organizations by Really Trying
Norman Martin and John Sims
Recap
Review Questions
Post-Test
Bibliography
Appendix: Conflict Resolution Tool Box
Index