How to Write a Business Plan, Fifth Edition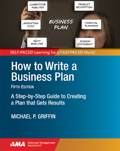 Author: Michael P. GriffinC.M.A.
Testing Format: multiple choice
Your Price: $159.00
ISBN: 9780761215509
Format: Paper or Softback
Overview
The key to a successful business plan.
How to Write a Business Plan presents the latest thinking on effective business planning, while putting all the information and tools students need right at their fingertips. From diagnosing and measuring customer satisfaction to finding innovative ways to raise capital, the fifth edition of this best-selling course explains how to organize and implement the planning process from beginning to end and position a company for success.
Students will learn how to:
• Evaluate a business's capabilities, strengths, and weaknesses
• Pinpoint the crucial elements of the competitive environment, including market, economic, and technological factors
• Establish realistic goals, objectives, and strategies in areas including marketing, organization and management, production/services, R&D, finance, and information technology
• Develop both operating and financial plans
• Identify and integrate customer requirements into the business plan
• Write the actual planning document and use it to steer a company to greater productivity and profits
• Obtain the capital needed to grow a business
Completely revised and updated, the course now includes sections on developing Information Technology goals and strategies, a new chapter preparing an IT Plan, and a glossary of terms. It also covers the role of the balanced scorecard in developing a business plan and looks at new ways to raise capital such as crowdfunding and search funds. Sample outlines, exercises, and review questions reinforce key concepts and allow students to strengthen their skills. Startups and established businesses alike all need a plan—this course makes creating one easy.
Table of Contents
About This Course xi
How to Take This Course xiii
Pre-Test xv
1 The Business Plan 1
Definition of a Business Plan
Contents of a Business Plan Document
Contingency Plans
Recap
Review Questions
2 Introduction to Business Planning 11
What Is Business Planning?
Objectives and Uses of a Business Plan
What to Include in a Business Plan
How to Prepare a Business Plan
Recap
Review Questions
3 Diagnosing the Internal Capabilities of a Company 29
The Importance of Understanding a Company's Operations
Structure of an Internal Diagnosis
How to Use the Results of an Internal Diagnosis
Recap
Review Questions
4 Diagnosing and Measuring Customer Satisfaction 57
Structure of the Company's Operating Environment
Focus on the Customer
What Customers Value
Identifying the Company's Customers
Customer Research Versus Customer Satisfaction Measurement
Measuring Customer Satisfaction
Ten Key Steps in Customer Satisfaction Measurement
Recap
Review Questions
5 Diagnosing the External Environment 77
Components of an External Diagnosis
How to Use the Results of an External Diagnosis
Recap
Review Questions
6 Setting Goals 95
Definition of a Mission
The Purpose of Goal Setting
The Nature of Goals, Objectives, and Strategies
How Goals Are Established
Where to Establish Goals and Strategies
How Goals, Objectives, and Strategies Should Be Used
Recap
Review Questions
7 Developing a Sales and Revenue Plan 119
Developing Quarterly Sales and Revenue Objectives
Developing Estimates of Marketing and Sales Expenses
Pulling Revenue and Expense Objectives Together
Linking Sales and Revenue Objectives to the Research and
Development Plan
Finalizing the Sales and Revenue Plan
Recap
Review Questions
8 Developing a Production Plan 133
Production Scheduling
Raw Materials Planning
Direct Labor Planning
Production Overhead Planning
Computing the Cost of Goods Sold
Finalizing the Production Plan
Recap
Review Questions
9 Developing an Organization and Management Plan 145
Developing an Appropriate Management Structure
Developing Effective Management and Information Systems
Developing an Effective Workforce
Estimating Management and Administrative Expenses
Recap
Review Questions
10 Developing a Financial Plan 161
Linking the Financial Plan to Financial Goals and Strategies
Preparing an Income Statement
Preparing a Balance Sheet
Preparing a Statement of Cash Flows
Finalizing a Financial Plan
Recap
Review Questions
11 Developing an Information Technology Plan 181
IT Situation Analysis
Business and IT Alignment
Tracking Emerging Technologies
Goal Setting and IT Initiatives
The IT Plan and Organizational Learning
Information Technology Budget
Information Technology Performance Measures
Recap
Review Questions
12 Preparing a Business Plan to Raise Capital 201
Alternatives for Raising Capital
Sources of Equity
Sources of Debt Financing
What Investors and Lenders Look for in a Business Plan
Factors to Consider in Deciding How to Finance
How to Present the Plan
Recap
Review Questions
Bibliography 219
Online Resources 221
Glossary 223
Post-Test 229
Index 235