Interpersonal Communication Skills in the Workplace, Second Edition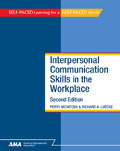 Authors: Perry McIntosh, Richard A. Luecke
Credit: 1.0 CEUs
Testing Format: multiple choice
Your Price: $139.00
ISBN: 9780761214755
Format: Book
Overview
Effective communication is an important element of success for every
organization, leader, manager, supervisor, and employee. Good communication
skills are a prerequisite for advancement in most fields and are key to
exercising influence both within and beyond the work group. This edition retains the subject matter strengths of the previous version and augments them with content that reflects new understandings of
interpersonal communications, new communication technologies, and new
organizational practices that include wider spans of management control,
greater employee empowerment, geographically dispersed work groups,
and team-based activities. It also contains new material on persuasive communications, dialogue, and nominal group technique. New chapters on techniques for generating ideas and solutions and communicating in the
multicultural workplace offer fresh perspectives on topics that have become
increasingly important in today's workplace. Throughout the course, the
authors provide assessments, exercises, and Think About It sections that
offer students numerous opportunities for practice and feedback.
Any person can realize the benefits of improved communication skills.
Interpersonal Communication Skills in the Workplace, Second Edition, provides theinsight and expertise needed to achieve this goal.
Course Objective: Prepare readers to communicate effectively, both within their organizations and in whatever
business or professional situations they encounter.
Selected Learning Objectives:
* Solve common communication problems.
* Communicate with different personality types.
* Read non-verbal cues.
* Improve listening skills.
* Give effective feedback.
* Be sensitive to cultural differences in communication.
Testing Format
This course contains one multiple choice test valued at one Continuing Education Unit (CEU).
Table of Contents
About This Course
How to Take This Course
Introduction
Pre-Test
1. The Importance of Effective Communication 1
What Is Effective Interpersonal Communication?
Why Communication Is Important
Communications Skills are Good for Your Career
Damage Done by Poor Communications
Lost Time and Effort
Tension in Workplace Relationships
Missed Business Opportunities
Three Factors that Contribute to Poor Communication
Change
Time Pressure
Interpersonal Conflict
Recap
Review Questions
2. Communicating in the New Workplace 13
Welcome to the 'New' Workplace
Three New Workplace Characteristics
New Communication Challenges—and Their Solutions
Solving the Any Place, Any Time Communication Challenge
Telephones and Phone Conferencing
Web Conferencing
Video Conferencing
Intranets
Collaboration Software
E-Mail
Making the Most of E-Mail
Tip 1: Put Power in Your Subject Line
Tip 2: Use One Message per E-Mail
Tip 3: Always Proofread Outgoing Messages
Tip 4: Be Wary of What You Write
Tip 5: Be Selective in Completing the "To" Line
Tip 6: Use Wireless Communication Devices Carefully
Tip 7: Use Instant Message for Quick Informational Exchanges
Tip 8: Know Your Company's E-Mail Policies and Abide by Them
Recap
Review Questions
3. Barriers to Communication—and How to Overcome Them 29
What Are Communication Barriers?
Framing Problems
Frame It Yourself
Defensiveness
Physical Distance
Communication Decreases with Physical Separation
Tackling the Distance Barrier
Group Size and Status Differences
Internal Conflict
Tip 1: Know Yourself
Tip 2: Identify the Emotion
Tip 3: Gain Control
Tip 4: Force Yourself to Listen
Groupthink
Prejudgments
Language Issues
Vagueness and Verbosity
Jargon
Language Differences
Recap
Review Questions
4. Communicating with Different Personality Types 49
Personality Differences
Extraversion/Introversion
Sensing/iNtuition
Thinking/Feeling
Judging/Perceiving
Personality Types and Communication Issues
Communicating with Extraverts and Introverts
Communicating with Sensing and iNtuitive Types
Communicating with Thinking and Feeling Coworkers
Communication Between Judging and Perceiving People
General Guidelines to Follow
Ask
Collaborate
Thank
Speak the Right Language
Don't Pigeonhole People
Recap
Review Questions
5. Verbal Communication 63
Communication Has Many Dimensions
Beyond the Words
How Voice Volume and Tone Affect What You Say
Where's the Volume Control?
Bad Habits to Avoid
Talking Down to Coworkers
Talking Up to Coworkers
Exaggeration
Good Verbal Habits to Cultivate
Be Concise
Be Definite
Check for Understanding
Three Steps to More Effective Verbal Communication
Step 1: Identify the Goals of the Interaction
Step 2: Know Your Audience
Step 3: Choose an Appropriate Method
Recap
Review Questions
6. Nonverbal Communication 75
A Powerful but Unspoken Language
Guidelines for Effective Nonverbal Communication
Tip 1: Be Professional
Tip 2: Be Yourself
Tip 3: Be Flexible
Self-Assessment and Improvement in Four Key Categories
Gestures
Body Posture and Position
Facial Expressions
Eye Contact
Aligning Verbal and Nonverbal Communication
Accepting a New Assignment
Making a Point in a Meeting
The Power of Example
Recap
Review Questions
7. Developing Listening Skills 87
Listening Goes Beyond Hearing
How Well Are You Listening?
The Benefits of Listening Well
You'll Get More Things Done Right the First Time
You'll Learn More
Other People Will Listen to You
Your Work Environment Will be More Harmonious
Tips for Effective Listening
Tip 1: Create the Right Atmosphere
Tip 2: Show Interest
Tip 3: Paraphrase What You've Heard
Tip 4: Ask Clarifying Questions
Recap
Review Questions
8. Giving and Receiving Feedback 97
The Concept of Feedback
What Makes Feedback Effective?
Descriptive, Not Judgmental
Addresses Modifiable, Not Unchangeable, Behavior
Specific, Not General
Well-Timed
Giving Feedback
Choose the Right Environment
Choose the Right Topic(s)
Choose the Right Words
Other Tips for Giving Effective Feedback: Dos and Don'ts
Receiving Feedback
Let the Other Person Do the Talking
Give the Other Person Ample Time to Express His or Her Views
Give Your Full Attention
Be Responsive to Received Feedback
Dealing with Negative Feedback
Be Prepared
Ask Clarifying Questions
Closing the Feedback Loop
Provide the Necessary Tools
Check in Periodically
Recap
Review Questions
9. When You Aim to Persuade 113
An Essential Workplace Skill
The Foundation of Persuasion
Trust
Understanding
A Credible Case
The Language of Persuasion
Emphasize the Benefits
Speak to the Head and the Gut
Be Positive and Affirmative in Communicating Your Ideas
Cite Endorsements from Others
Recap
Review Questions
10. Techniques That Generate New Ideas and Solutions 125
The Role of Communications in Generating Ideas and Solutions
Dialogue
Listen, Then Respond
Seek Alternatives
Brainstorming
Nominal Group Technique
Recap
Review Questions
11. Communicating in the Multicultural Workplace 133
People on the Move
Language
Dealing with Language Issues
English-Only Policies
Practical Steps
Nonverbal Communication
Cultural Differences and Communication
Power Distance
Individuality versus Collectivity
Masculinity versus Femininity
Avoidance of Uncertainty (or Risk)
Low- and High-Context Cultures
Recap
Review Questions
Bibliography
Glossary
Online Resources
Post-Test
Index
c